Luxurious Sky Loft rooms
Fusing modern design with mythology from the national epic Kalevala, Klaus K is Finland's first design hotel. The top two floors of the property house 30 luxurious and individual Sky Loft rooms and suites.
Air conditioning to match the hotel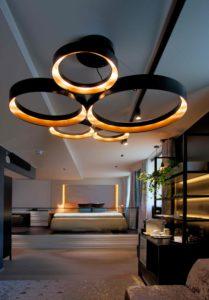 A high-quality hotel must have high-quality indoor air. This means having fresh indoor air in all circumstances and offering the possibility to adjust the temperature and air conditioning for each room separately. 'Silent operations and draught-free ventilation are also high on the list of priorities in the design of a hotel's ventilation system,' explains Rake Oy's property manager, Kari Oja.
Silent and adjustable
The Grand fan coil unit, originally designed as a hotel ventilation system and an air-conditioning terminal device, was selected for the property. The device's silent operations, room-specific control system and easy installation method numbered among the factors that helped to sway the decision in its favour.
Easy to install
Consti Talotekniikka Oy's manager of air conditioning projects, Timo Mäkäräinen, will remember the Klaus K renovation for quite some time to come. The project was particularly challenging because it involved a valuable, historic property, which remained in use throughout the project. The work could start no earlier than 9 o'clock each morning and it was always possible that the occupants of the rooms below were still fast asleep. However, Mäkäräinen was pleased to realise how easy the systems were to install. The Grand fan coil units were fixed to the ceiling via a fitting on the bottom plate, with all the technical connections located on the device's back plate.
Air conditioning solution